Tableware
After making a toast we can throw them behind us… they're ready for any impact!
Beauty in safety: a major victory!
Plastic Tableware
Colourful or transparent, they were created over the years to answer the ever growing demand for safe, handy and convenient products that only plastic can provide. Glasses, pitchers, plates and plate-covers, trays made of plastic; these are the ideal substitutes for fragile materials like ceramic or glass, especially in clubs, pubs, swimming pools, hospitals and open spaces in general, thanks to the fact that they're so hard to break, and not as dangerous. On top of that, they also offer value in price when compared to traditional materials. Developed to be "easy": on the outside, a milling surface offer a better grip and hides scratches; on the inside, the smooth surfaces and lack of corners make them easy to clean. They're also dishwasher safe. Transparent like glass or in bright colours, they fit in all situations.
Polycarbonate not stackable pitcher
| Code | Colour | Cap. lt. | dim. mm |
| --- | --- | --- | --- |
| PBRO15 | Clear | 1,5 | Ø 120 x 170 H |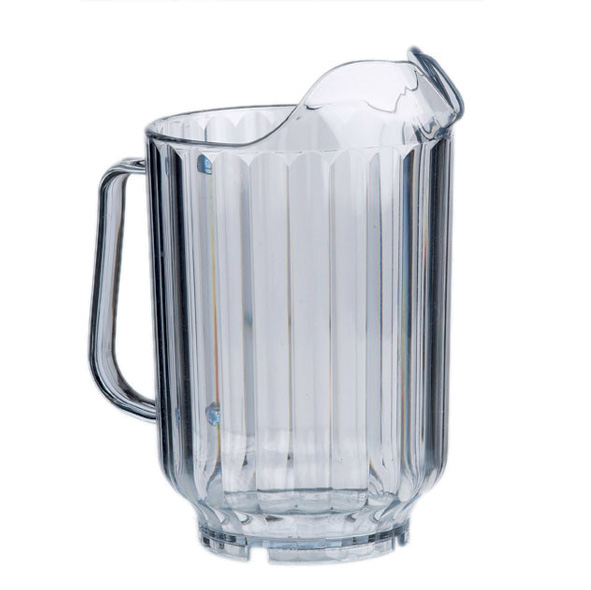 Transparent polycarbonate stackable pitcher
| Code | Colour | Cap. lt. | dim. mm |
| --- | --- | --- | --- |
| PBI1 | Clear | 1 | Ø 125×175 H |
| PBI12 | Clear | 1,2 | Ø 128×186 H |
| PBI15 | Clear | 1,5 | Ø 135×200 H |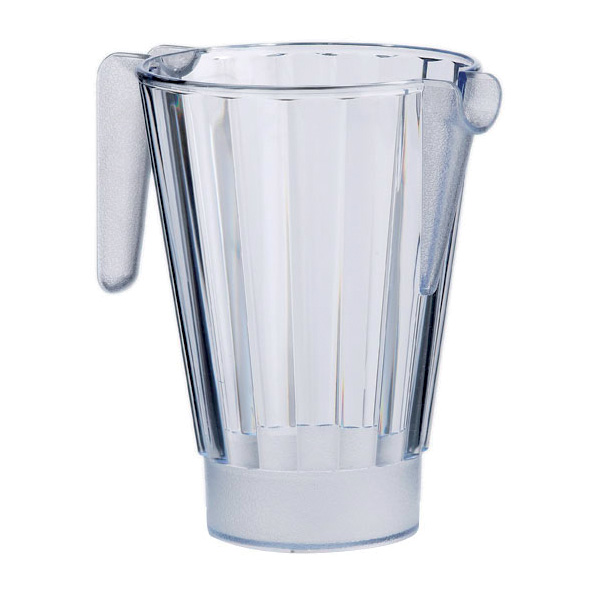 Blue polycarbonate stackable pitcher
| Code | Colour | Cap. lt. | dim. mm |
| --- | --- | --- | --- |
| PBI1B | Blue | 1 | Ø 125×175 H |
| PBI12B | Blue | 1,2 | Ø 128×186 H |
| PBI15B | Blue | 1,5 | Ø 135×200 H |
Orange polycarbonate stackable pitcher
| Code | Colour | Cap. lt. | dim. mm |
| --- | --- | --- | --- |
| PBI1A | Orange | 1 | Ø 125×175 H |
| PBI12A | Orange | 1,2 | Ø 128×186 H |
| PBI15A | Orange | 1,5 | Ø 135×200 H |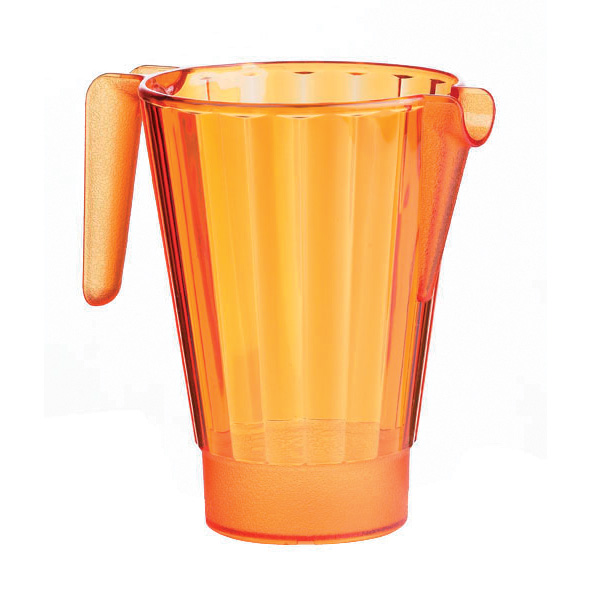 Polypropylene stackable pitcher
| Code | Colour | Cap. lt. | dim. mm |
| --- | --- | --- | --- |
| PRB1 | Clear | 1 | Ø 125×175 H |
| PRB12 | Clear | 1,2 | Ø 128×186 H |
| PRB15 | Clear | 1,5 | Ø 135×200 H |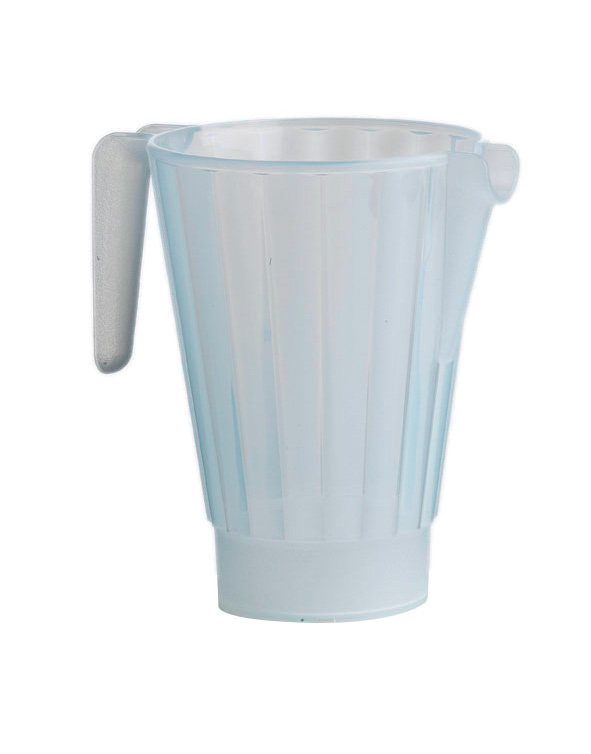 Polypropylene lid for stackable pitchers
| Code | Colour | Cap. lt. | dim. mm |
| --- | --- | --- | --- |
| PRCBROCCA1 | White | 1 | Ø 125 |
| PRCBR12 | White | 1,2 | Ø 128 |
| PRCBROCCA15 | White | 1,5 | Ø 135 |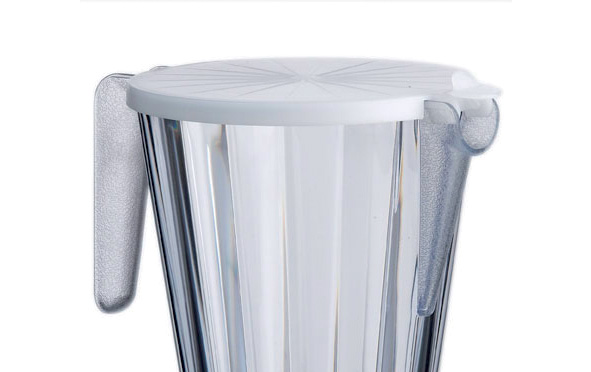 Polycarbonate small "whiskey" glass
| Code | Colour | Cap. cl. | dim. mm |
| --- | --- | --- | --- |
| PBPW | Clear | 22,6 | Ø 70×85 |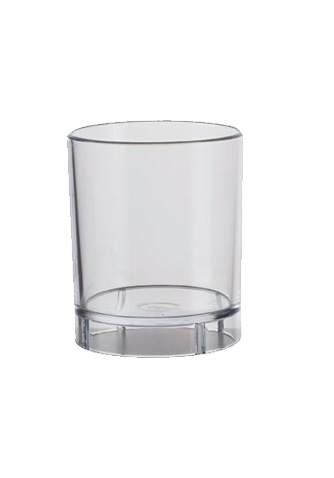 Polycarbonate wine chalice
| Code | Colour | Cap. cl. | dim. mm |
| --- | --- | --- | --- |
| PBV | Clear | 22,4 | Ø 70×150 |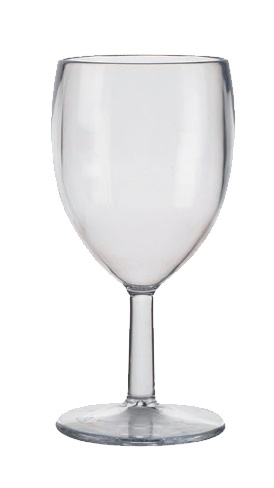 | Code | Colour | Cap. cl. | dim. mm |
| --- | --- | --- | --- |
| SBV | Clear | 22,4 | Ø 70×150 |
Polycarbonate long-drink glass
| Code | Colour | Cap. cl. | dim. mm |
| --- | --- | --- | --- |
| PBLD | Clear | 25 | Ø 60×145 |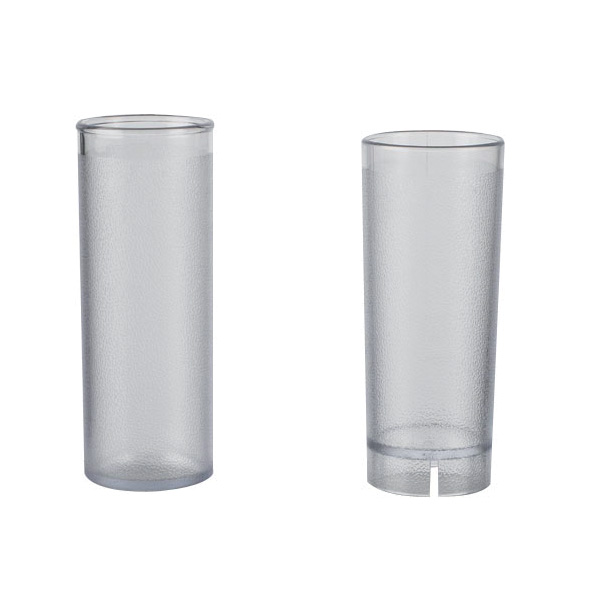 | Code | Colour | Cap. cl. | dim. mm |
| --- | --- | --- | --- |
| SBTCL35 | Clear | 35 | Ø 85×97 |
| SBTCL38 | Clear | 38 | Ø 80×130 |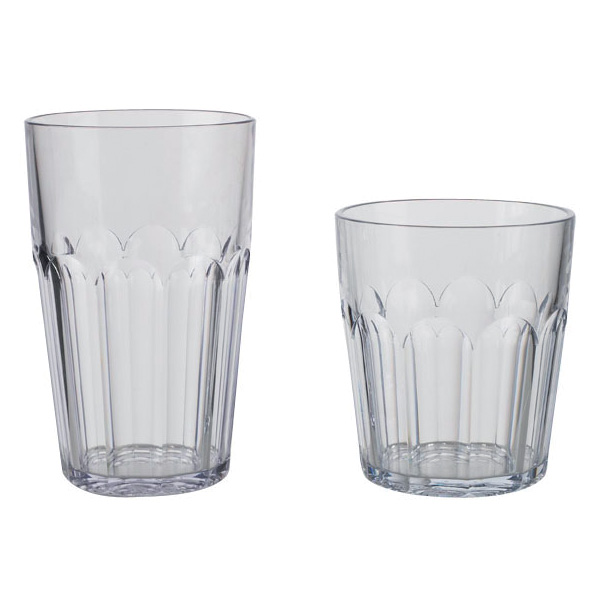 Polycarbonate granity glass
| Code | Colour | Cap. cl. | dim. mm |
| --- | --- | --- | --- |
| PBTCL35 | Clear | 35 | Ø 85×97 |
| PBTCL38 | Clear | 38 | Ø 80×130 |
| Code | Colour | Cap. cl. | dim. mm |
| --- | --- | --- | --- |
| SBPPT | Clear | 15 | Ø 57×90 |
| SBPPB | Blue | 15 | Ø 57×90 |
| SBPPA | Orange | 15 | Ø 57×90 |
| SBPPV | Green | 15 | Ø 57×90 |
| SBPPR | Red | 15 | Ø 57×90 |
| SBPJT | Clear | 20 | Ø 65×100 |
| SBPJR | Red | 20 | Ø 65×100 |
| SBPT | Clear | 28 | Ø 70×110 |
| SBPB | Blue | 28 | Ø 70×110 |
| SBPA | Orange | 28 | Ø 70×110 |
| SBPV | Green | 28 | Ø 70×110 |
| SBMT | Clear | 36 | Ø 75×130 |
| SBMB | Blue | 36 | Ø 75×130 |
| SBMA | Orange | 36 | Ø 75×130 |
| SBMV | Green | 36 | Ø 75×130 |
| SBGT | Clear | 47 | Ø 80×145 |
| SBGB | Blue | 47 | Ø 80×145 |
| SBGA | Orange | 47 | Ø 80×145 |
| SBGV | Green | 47 | Ø 80×145 |
Polycarbonate "whiskey" glasses
| Code | Colour | Cap. cl. | dim. mm |
| --- | --- | --- | --- |
| PBW | Clear | 29 | Ø 59X15 |
Polypropylene fast food trays in different colours
–
Polypropylene little tray 365×270
| Code | Colour | ext. meas. | int. meas. |
| --- | --- | --- | --- |
| PRFFPBE | Beige | 365×270 | 315×235 |
| PRFFPGC | Light grey | 365×270 | 315×235 |
| PRFFPG | Dark grey | 365×270 | 315×235 |
| PRFFPM | Brown | 365×270 | 315×235 |
| PRFFPA | Orange | 365×270 | 315×235 |
| PRFFPV | Green | 365×270 | 315×235 |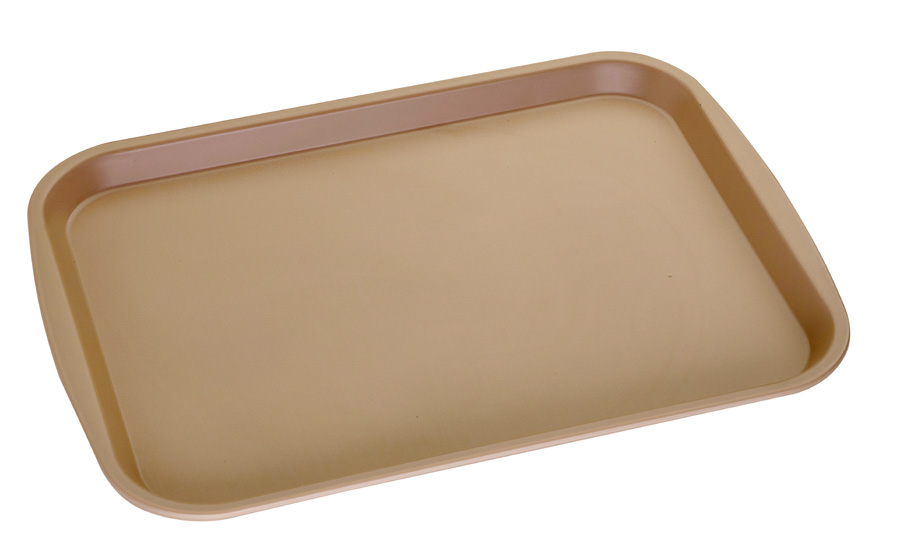 Polypropylene medium tray 435×310
| Code | Colour | ext. meas. | int. meas. |
| --- | --- | --- | --- |
| PRFFMBE | Beige | 435×310 | 385×275 |
| PRFFMGC | Light grey | 435×310 | 385×275 |
| PRFFMG | Dark grey | 435×310 | 385×275 |
| PRFFMM | Brown | 435×310 | 385×275 |
| PRFFMA | Orange | 435×310 | 385×275 |
| PRFFMV | Green | 435×310 | 385×275 |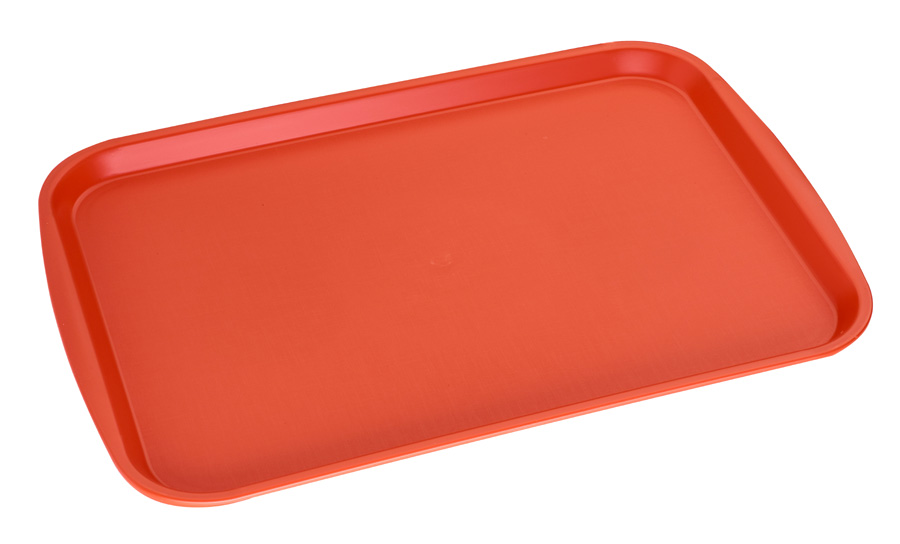 Polypropylene medium tray 475×355
| Code | Colour | ext. meas. | int. meas. |
| --- | --- | --- | --- |
| PRFFGBE | Beige | 475X355 | 415X320 |
| PRFFGGC | Light grey | 475X355 | 415X320 |
| PRFFGG | Dark grey | 475X355 | 415X320 |
| PRFFGM | Brown | 475X355 | 415X320 |
| PRFFGA | Orange | 475X355 | 415X320 |
| PRFFGV | Green | 475X355 | 415X320 |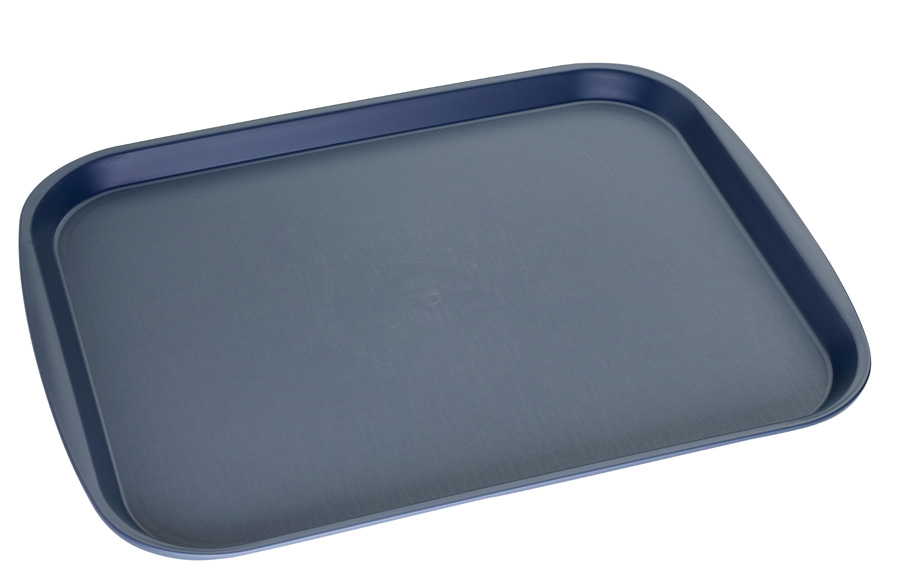 Polypropylene medium tray 440×310 with handles
| Code | Colour | ext. meas. | int. meas. |
| --- | --- | --- | --- |
| PRFFMMG | Beige | 440×310 | 365×285 |
| PRFFMMB | Light grey | 440×310 | 365×285 |
| PRFFMMM | Dark grey | 440×310 | 365×285 |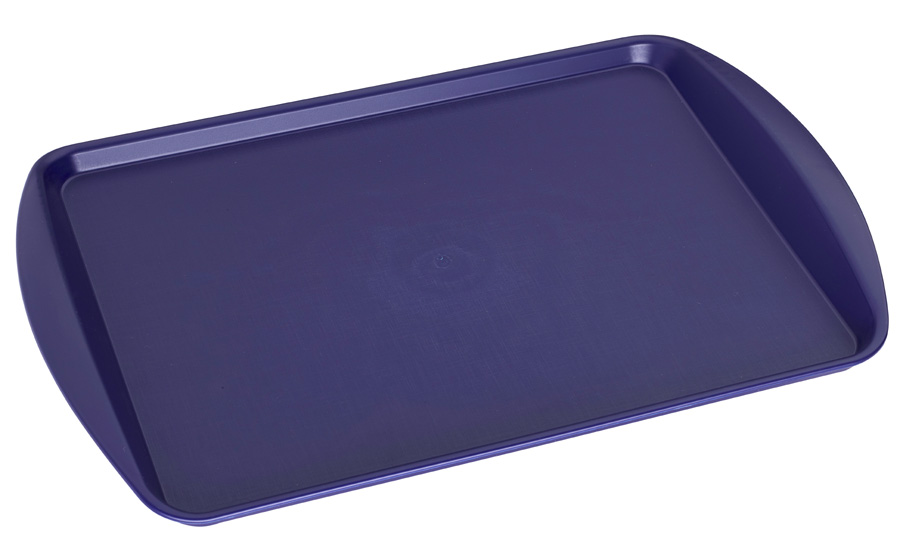 Polycarbonate trays 290×195
| Code | Colour | ext. meas. |
| --- | --- | --- |
| P29195B | Transparent | 290×195 |
| P29195N | Black | 290×195 |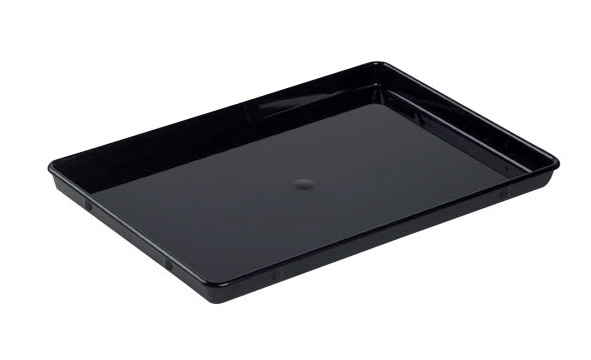 Polycarbonate trays 580×195
| Code | Colour | ext. meas. |
| --- | --- | --- |
| P58195 | Transparent | 580×195 |
| P58195N | Black | 580×195 |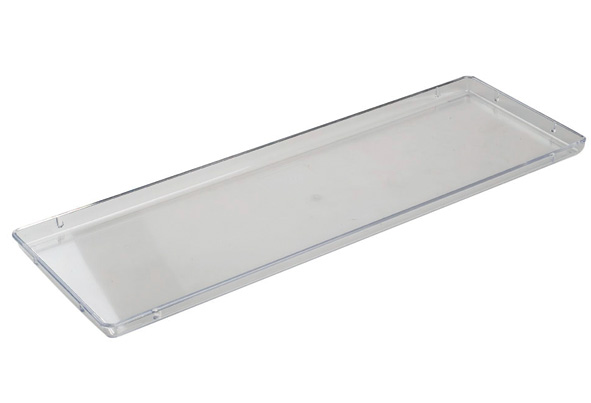 Polycarbonate trays 350×280
| Code | Colour | ext. meas. | int. meas. |
| --- | --- | --- | --- |
| P3427 | Transparent | 350x280x15 | 349x278x15 |
| P3427N | Black | 350x280x15 | 349x278x15 |
| P3427bianco | White | 350x280x15 | 349x278x15 |
Polycarbonate trays 400×200
| Code | Colour | ext. meas. | int. meas. |
| --- | --- | --- | --- |
| P3919 | Transparent | 400x200x15 | 395x195x15 |
| P3919N | Black | 400x200x15 | 395x195x15 |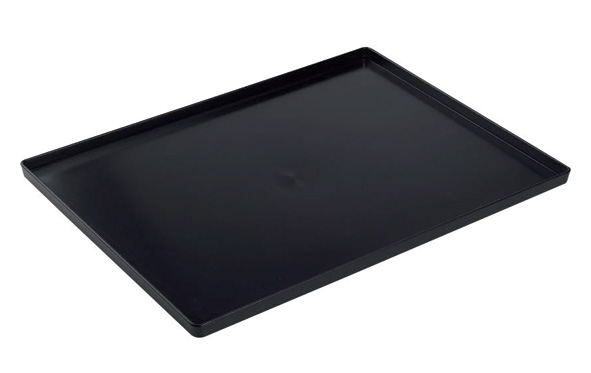 Polycarbonate trays 400×300
| Code | Colour | ext. meas. | int. meas. |
| --- | --- | --- | --- |
| P3940 | Transparent | 400x300x15 | 395x195x15 |
| P3940N | Black | 400x300x15 | 395x195x15 |
Plates, Plate-covers, Salad bowls
–
Polycarbonate soup plates
Code
N.
Code
Description
Color
Lenght
(mm)
Width
(mm)
Height
(mm)
Capacity
(l)
Weight
(g)
Material
Extra
Max Load
Q.tà vendita
Qty Master
Carton
H. box
W. box
L. box
CN Codes
(Intrastat)
Barcode
8706
80.40.10.0225.2125
PCF21
White bowl PC Ø 210mm
WHITE
210
210
35
0.00
190
Polycarbonate
0.00
1.00
0
0.00
0.00
0.00
39249000
8054615825765
8707
80.40.10.0225.2325
PCF23
Soup plate PC Ø 230mm
WHITE
230
230
35
0.00
190
Polycarbonate
0.00
1.00
0
0.00
0.00
0.00
39249000
8054615825772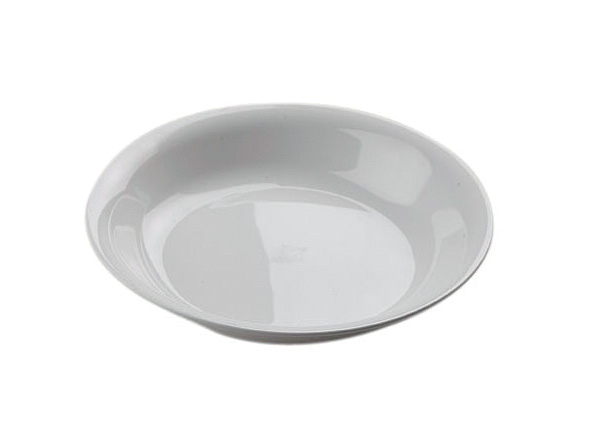 Polycarbonate flat plates
Code
N.
Code
Description
Color
Lenght
(mm)
Width
(mm)
Height
(mm)
Capacity
(l)
Weight
(g)
Material
Extra
Max Load
Q.tà vendita
Qty Master
Carton
H. box
W. box
L. box
CN Codes
(Intrastat)
Barcode
8703
80.40.10.0125.2125
PCPBP
White plate PC Ø 208mm
WHITE
208
208
17
0.00
116
Polycarbonate
0.00
1.00
0
0.00
0.00
0.00
39249000
8054615825895
8704
80.40.10.0125.2325
PCPBM
White plate PC Ø 227mm
WHITE
227
227
17
0.00
134
Polycarbonate
0.00
1.00
0
0.00
0.00
0.00
39249000
8054615825901
8705
80.40.10.0125.2525
PCPBG
White plate PC Ø 252mm
WHITE
252
252
17
0.00
169
Polycarbonate
0.00
1.00
160
54.00
35.00
40.00
39249000
8054615825918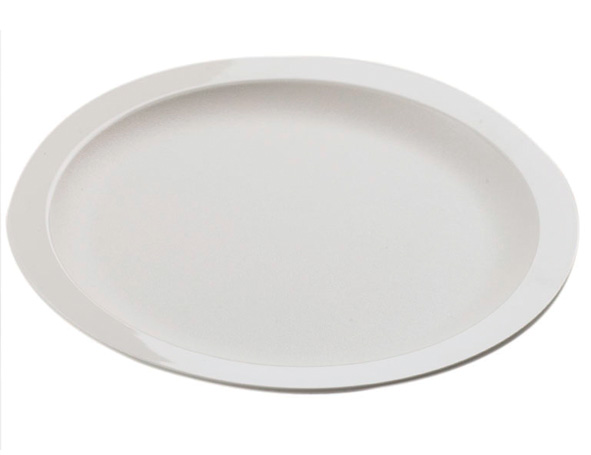 Polycarbonate salad bowls
Code
N.
Code
Description
Color
Lenght
(mm)
Width
(mm)
Height
(mm)
Capacity
(l)
Weight
(g)
Material
Extra
Max Load
Q.tà vendita
Qty Master
Carton
H. box
W. box
L. box
CN Codes
(Intrastat)
Barcode
8719
80.40.20.0100.1500
PCI15
PC salad bowl Ø 15 cm
TRANSPARENT
150
150
0
0.00
70
Polycarbonate
0.00
1.00
0
0.00
0.00
0.00
39249000
8054615825802
8720
80.40.20.0100.2000
PCI20
PC bowl Ø 20 cm
TRANSPARENT
200
200
0
0.00
134
Polycarbonate
0.00
1.00
0
0.00
0.00
0.00
39249000
8054615825819
8721
80.40.20.0100.2500
PCI25
PC bowl Ø 25 cm
TRANSPARENT
250
250
0
0.00
150
Polycarbonate
0.00
1.00
0
0.00
0.00
0.00
39249000
8054615825826
8722
80.40.20.0100.3000
PCI30
Bowl Ø 30 cm
TRANSPARENT
300
300
0
0.00
360
Polycarbonate
0.00
1.00
0
0.00
0.00
0.00
39249000
8054615825857
8723
80.40.20.0100.3900
PCI39
Bowl Ø 39 cm
TRANSPARENT
390
390
0
0.00
560
Polycarbonate
0.00
1.00
20
54.00
35.00
40.00
39249000
8054615825888
8724
80.40.20.0117.2500
PCI25VE
Bowl Ø 25 cm green
GREEN
250
250
0
0.00
150
Polycarbonate
0.00
1.00
0
0.00
0.00
0.00
39249000
8054615825840
8725
80.40.20.0117.3000
PCI30VE
Bowl Ø 30 cm green
GREEN
300
300
0
0.00
360
Polycarbonate
0.00
1.00
0
0.00
0.00
0.00
39249000
8054615825871
8726
80.40.20.0118.2500
PCI25AR
Bowl Ø 25 cm orange
ORANGE
250
250
0
0.00
150
Polycarbonate
0.00
1.00
0
0.00
0.00
0.00
39249000
8054615825833
8727
80.40.20.0118.3000
PCI30AR
Bowl Ø 30 cm orange
ORANGE
300
300
0
0.00
360
Polycarbonate
0.00
1.00
0
0.00
0.00
0.00
39249000
8054615825864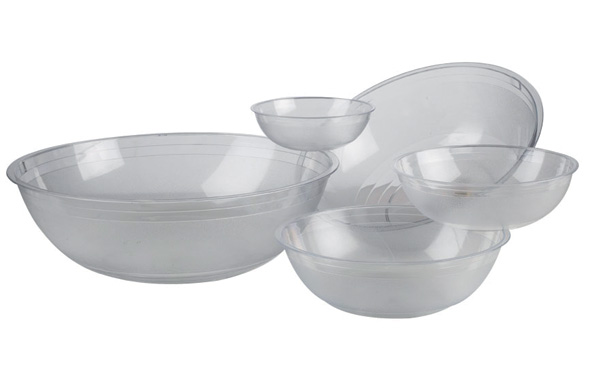 Polycarbonate Plate-covers Ø22 with handle
Code
N.
Code
Description
Color
Lenght
(mm)
Width
(mm)
Height
(mm)
Capacity
(l)
Weight
(g)
Material
Extra
Max Load
Q.tà vendita
Qty Master
Carton
H. box
W. box
L. box
CN Codes
(Intrastat)
Barcode
8708
80.40.15.0100.2100
PC22TM
Plate-cover 22 cm with handle
TRANSPARENT
220
220
45
0.00
183
Polycarbonate
0.00
1.00
50
54.00
35.00
30.00
39249000
8054615826045
8710
80.40.15.0124.2100
PC22ROM
Plate-cover 22 cm red with handle
RED
220
220
45
0.00
183
Polycarbonate
0.00
1.00
50
54.00
35.00
30.00
39249000
8054615826038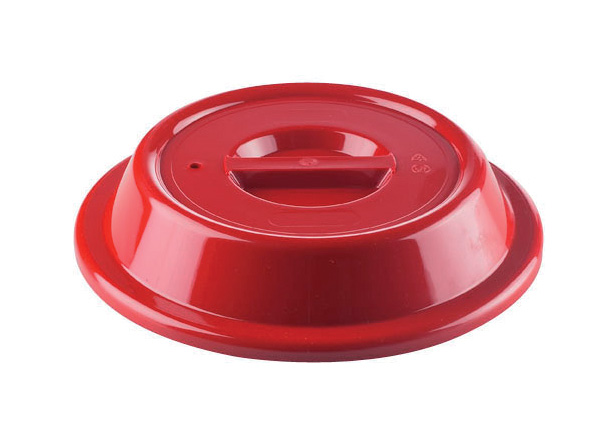 Polycarbonate Plate-covers Ø24 with handle
| Code | Colour | inter. and exter. dimens. |
| --- | --- | --- |
| PC24TM | Transparent | 240-233 cm / 210-232 cm |
| PC24BIM | White | 240-233 cm / 210-232 cm |
| PC24ROM | Red | 240-233 cm / 210-232 cm |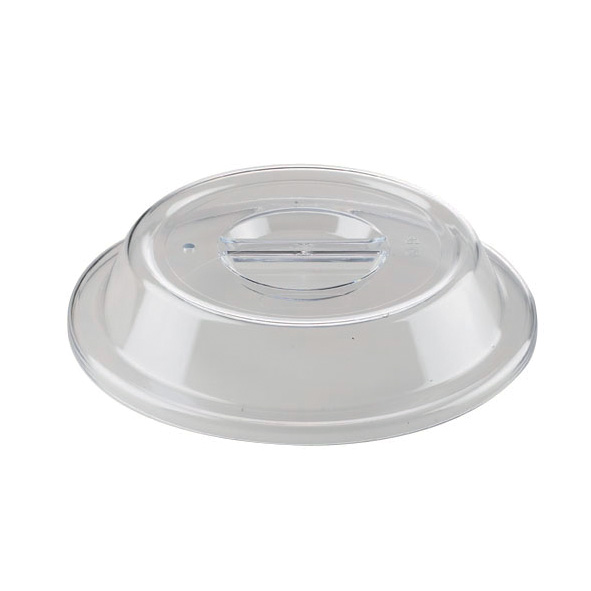 Polycarbonate Plate-covers Ø24 without handle
| Code | Colour | inter. and exter. dimens. |
| --- | --- | --- |
| PCAT | Transparent | 240 h 38 / 210-232 |
| PCAB | White | 240 h 38 / 210-232 |
| PCAR | Red | 240 h 38 / 210-232 |
| PCAG | Smoky grey | 240 h 38 / 210-232 |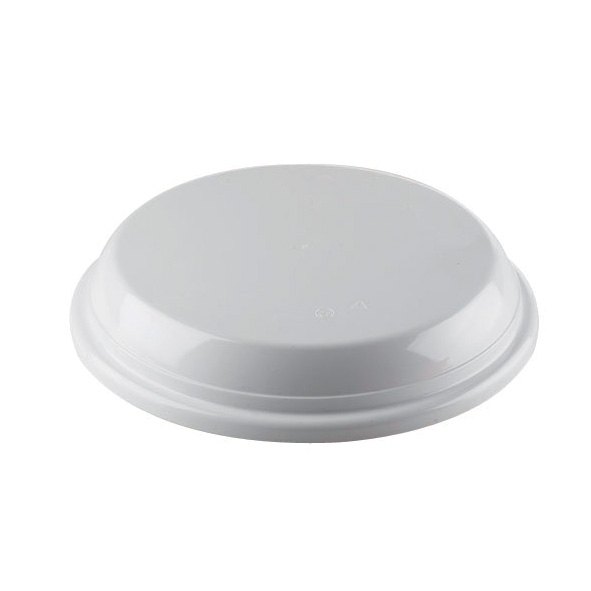 Polycarbonate Plate-covers Ø22 with central hole
Code
N.
Code
Description
Color
Lenght
(mm)
Width
(mm)
Height
(mm)
Capacity
(l)
Weight
(g)
Material
Extra
Max Load
Q.tà vendita
Qty Master
Carton
H. box
W. box
L. box
CN Codes
(Intrastat)
Barcode
8715
80.40.15.0300.2100
PC22TF
Plate-cover 22cm with hole
TRANSPARENT
220
220
45
0.00
200
Polycarbonate
0.00
1.00
50
54.00
35.00
30.00
39249000
8716
80.40.15.0300.2300
PC24TF
Plate-cover 24 cm with hole
TRANSPARENT
240
240
45
0.00
224
Polycarbonate
0.00
1.00
60
54.00
35.00
40.00
39249000
8717
80.40.15.0300.2600
PC26TF
Plate-cover 26 cm with hole
TRANSPARENT
260
260
45
0.00
266
Polycarbonate
0.00
1.00
30
40.00
35.00
35.00
39249000
8054615825789
8718
80.40.15.0300.2800
PC28TF
Plate-cover 28cm PC with hole
TRANSPARENT
280
280
45
0.00
326
Polycarbonate
0.00
1.00
30
40.00
35.00
35.00
39249000
8054615825796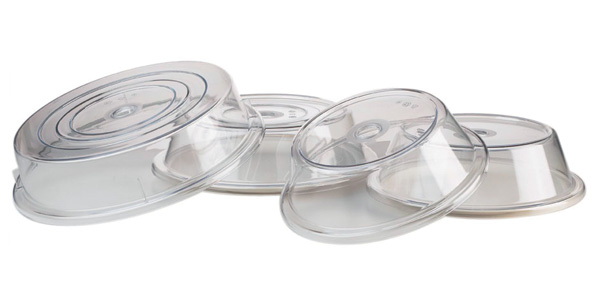 Rack for cutlery with 4 compartments
Code
N.
Code
Description
Color
Lenght
(mm)
Width
(mm)
Height
(mm)
Capacity
(l)
Weight
(g)
Material
Extra
Max Load
Q.tà vendita
Qty Master
Carton
H. box
W. box
L. box
CN Codes
(Intrastat)
Barcode
8614
70.50.30.0402.0000
RCEST04
Grey rack for cutlery with 4 compartments
GREY
530
325
100
0.00
847
polypropylene
0.00
10.00
10
51.00
51.00
63.00
39249000
8054615823372
8617
70.50.41.0000.0000
RCEST04B
Blue rack for cutlery with 4 compartments
BLUE
530
325
100
0.00
847
polypropylene
0.00
10.00
10
51.00
51.00
63.00
39249000
8618
70.50.41.0000.0000
RCOP4
Lid for rack for cutlery with 4 compartments
NEUTRAL
530
325
15
0.00
618
polypropylene
0.00
1.00
1
0.00
0.00
0.00
39249000
8701
70.50.30.0402.0000
RCEST04
Grey rack cutlery with 4 comp.
GREY
320
520
50
0.00
840
Reinforced polypropylene
0.00
1.00
10
63.00
51.00
51.00
39249000