Trays and containers
Beautiful and perfectly hygienic.
They have both style and a definite design.
They embody top quality but also… ride the crest of the wave.
Aisi 304 stainless steel trays and containers
In this section you will find a vast choice of stainless steel containers, for when you're looking for different measures than the classic Gastronorm standard. Well-finished, shiny and with great attention to detail, thanks to the hand-made polishing, they're designed to furnish showcases and laboratories of butchers, bakeries and patisseries. They are, of course, developed for intense use: remarkably robust, they're all made in stainless steel Aisi 304 (18/10), in order to offer the best resistance to corrosion, wear and stains caused by processing meat and food in general. The tight but smooth radius improves capacity and makes them easy to clean. This line is completed by the stainless steel grids, used to drain the food.
Standard trays

| Code | Ext. dimens. (mm) | H in mm |
| --- | --- | --- |
| 087056 | 290×210 | 15 |
| 087055 | 400×300 | 15 |
| 087054 | 580×210 | 15 |
| 087053 | 730×210 | 15 |
| 087052 | 730×250 | 15 |
| 087051 | 830×270 | 15 |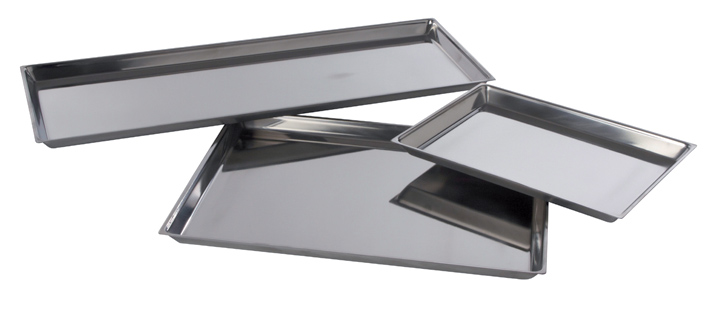 Trays with rounded corners

| Code | Ext. dimens. (mm) | H in mm |
| --- | --- | --- |
| 085053 | 260×230 | 20 |
| 085052 | 340×210 | 20 |
| 085051 | 450×250 | 24 |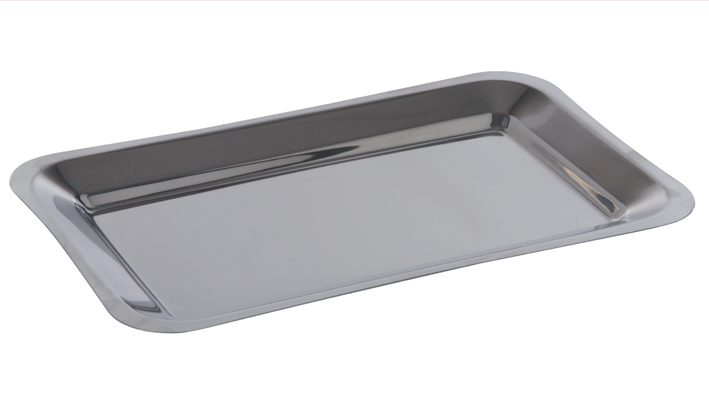 Trays with rounded corners

| Code | Ext. dimens. (mm) | H in mm |
| --- | --- | --- |
| 087057 | 300×210 | 10 |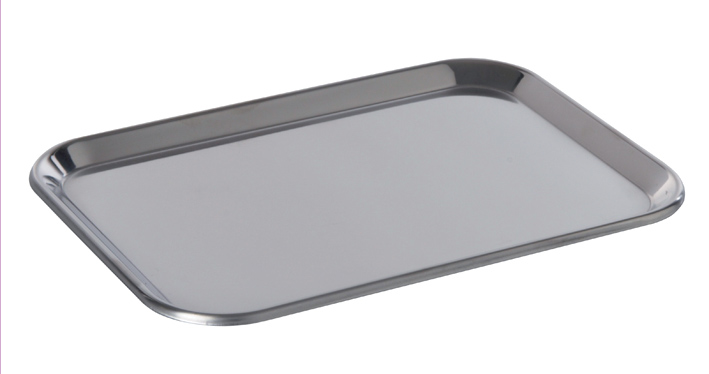 Container 450x190x35

| Code | Ext. dimens. (mm) | H in mm |
| --- | --- | --- |
| 086051 | 450x190x35 | 35 |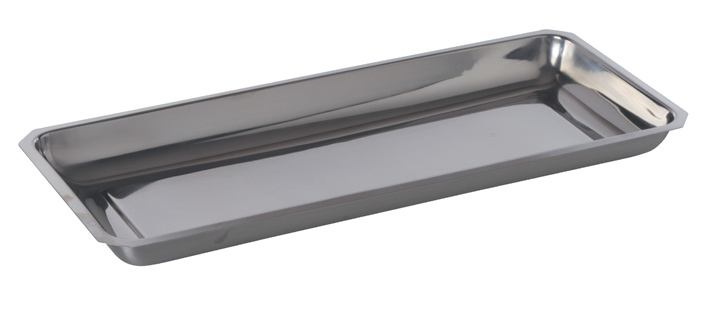 Containers for supermarkets and trolleys

| Code | Ext. dimens. (mm) | H in mm |
| --- | --- | --- |
| 087056 | 290×210 | 15 |
| 087055 | 400×300 | 15 |
| 087054 | 580×210 | 15 |
| 087053 | 730×210 | 15 |
| 087052 | 730×250 | 15 |
| 087051 | 830×270 | 15 |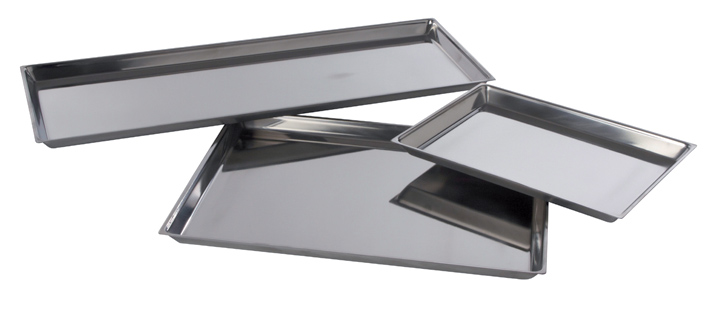 Standard container

Code
N.
Code
Description
Color
Lenght
(mm)
Width
(mm)
Height
(mm)
Capacity
(l)
Weight
(g)
Material
Extra
Max Load
Q.tà vendita
Qty Master
Carton
H. box
W. box
L. box
CN Codes
(Intrastat)
Barcode
8635
20.10.20.0920.6135
090053
Container 610x405x35
STEEL
610
405
35
0.00
2000
Aisi304 SST
0.00
1.00
20
54.00
63.00
45.00
73239300
8054615823655
8636
20.10.20.0920.6155
090052
Container 610x405x55
STEEL
610
405
55
0.00
2400
Aisi304 SST
0.00
1.00
15
54.00
63.00
45.00
73239300
8054615823662
8637
20.10.20.0920.6175
090051
Container 610x405x75
STEEL
610
405
75
0.00
2500
Aisi304 SST
0.00
1.00
10
54.00
63.00
45.00
73239300
8054615823679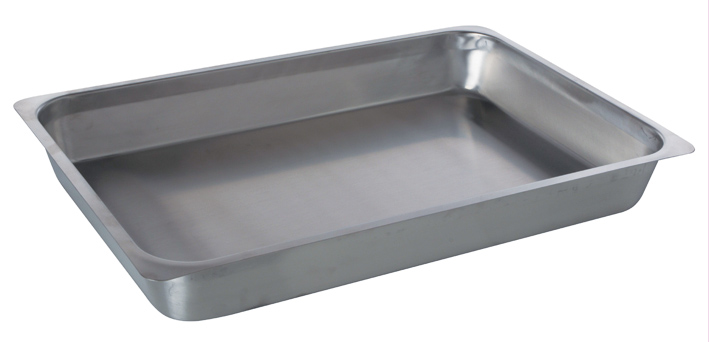 Grids for standard containers

Code
N.
Code
Description
Color
Lenght
(mm)
Width
(mm)
Height
(mm)
Capacity
(l)
Weight
(g)
Material
Extra
Max Load
Q.tà vendita
Qty Master
Carton
H. box
W. box
L. box
CN Codes
(Intrastat)
Barcode
8638
20.10.20.9910.2017
089056
Grid 200x175 for container lenght 244
STEEL
200
175
1
0.00
192
Aisi304 SST
0.00
1.00
0
0.00
0.00
0.00
73239300
8054615823761
8639
20.10.20.9910.2718
089055
Grid 270x180 for container lenght 320
STEEL
270
180
1
0.00
213
Aisi304 SST
0.00
1.00
0
0.00
0.00
0.00
73239300
8054615823778
8640
20.10.20.9910.2918
089054
Grid 296x186 for container lenght 350
STEEL
296
186
1
0.00
286
Aisi304 SST
0.00
1.00
0
0.00
0.00
0.00
73239300
8054615823785
8641
20.10.20.9910.3626
089053
Grid 360x260 for container lenght 410
STEEL
360
260
1
0.00
440
Aisi304 SST
0.00
1.00
0
0.00
0.00
0.00
73239300
8054615823792
8642
20.10.20.9910.4430
089052
Grid 445x300 for container lenght 500
STEEL
445
300
9
0.00
804
Aisi304 SST
0.00
1.00
0
0.00
0.00
0.00
73239300
8054615823808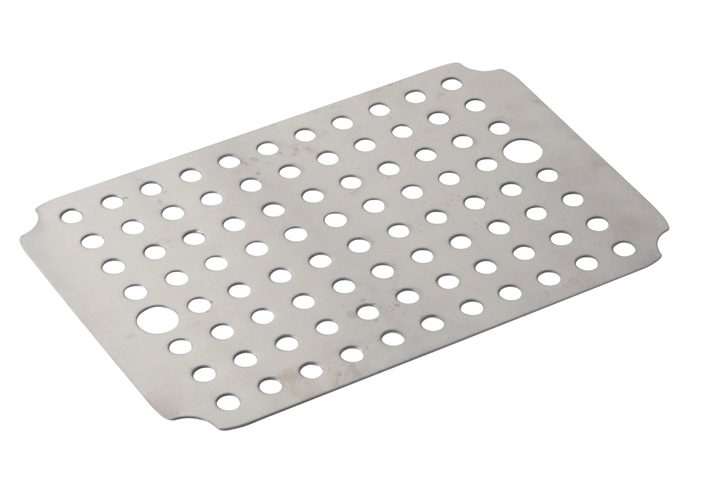 Container 244x230x42

Code
N.
Code
Description
Color
Lenght
(mm)
Width
(mm)
Height
(mm)
Capacity
(l)
Weight
(g)
Material
Extra
Max Load
Q.tà vendita
Qty Master
Carton
H. box
W. box
L. box
CN Codes
(Intrastat)
Barcode
8643
20.10.30.0930.2642
092053
Container 260x230x42
STEEL
260
230
42
0.00
420
Aisi304 SST
0.00
1.00
0
0.00
0.00
0.00
73239300
8054615823846